Retirement for two of the Lifeboat Guild's Flag Officers
13/02/2022
This weekend brought the end to a chapter for RNLI Jersey and its amazing team of fundraisers, with the retirement of two of the Lifeboat Guild's Flag Officers, the most senior of the appointments to the fundraising arm of RNLI Jersey.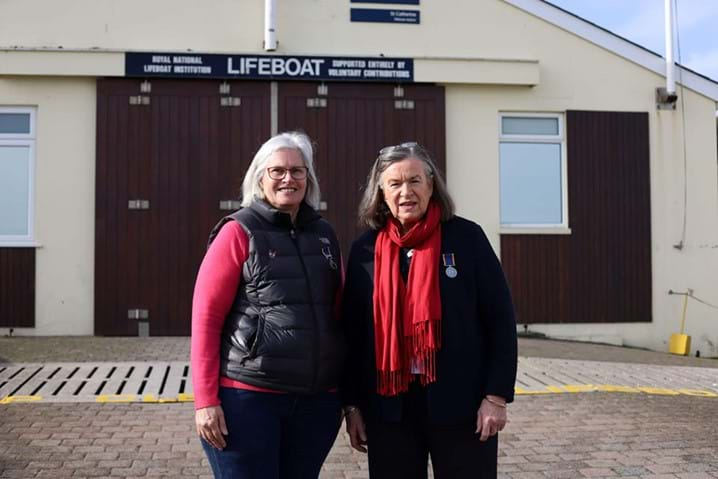 Josephine (Jophy) Spary is standing down after 4 years as Chair of the Jersey Lifeboat Guild, a role she took on in 2018 following the departure of a number of long-standing Guild members. Jophy first joined the Guild in Glasgow in 1980 before joining the Guild in Jersey in 1992, so her retirement brings an end to 42 years of support to RNLI both in Glasgow and Jersey.

In addition, Caryll McFadyen is standing down as Honorary Secretary, a role she has held for 32 years. Caryll joined the Guild 36 years ago and has been instrumental in virtually every facet of RNLI Jersey over the last 3 decades; from the annual open days, numerous fund-raising events to the organisation of funds to bring the current lifeboats to our Island to help safeguard Jersey's waters. In honour of her longstanding service to the RNLI Caryll has been made a Vice President of the RNLI in Jersey and in that role it is hoped that she will continue to help with the Guild and pass down the knowledge she has gained over all those years of service. Her family is an integral part of RNLI Jersey with her husband, Chris, one of the Lifeboat Operations Management team and her son, Edward, a helm on the RNLI Jersey inshore lifeboat.

RNLI Jersey cannot thank Jophy and Caryll enough for their unwavering support during their respective tenures - the lifesaving service offered by RNLI Jersey would not happen without the support and dedication of its fundraisers, and the Flag Officers are responsible for the organisation and proper management of those volunteers. Jophy and Caryll leave their roles with very big shoes to fill!
« All News