A week of celebrations for RNLI Jersey
30/04/2021
RNLI Jersey is celebrating this week as four crew members have successfully passed their assessments to be accepted as Helms and Coxswains of the RNLI inshore and all-weather lifeboats.
All RNLI crew undergo continuous training and assessment throughout their sea-going careers. However, the assessment for becoming a Helm of an inshore lifeboat and Coxswain of an all-weather lifeboat is particularly demanding, requiring the crew member to be able to demonstrate the skills and experience necessary to command the respective RNLI boats in the most extreme weather and adverse of situations. The assessment is not easy, taking place over months and covering on-station evaluation followed by a formal pass-out assessment by RNLI assessors, during which the candidates are put through their paces to meet the exacting standard expected by this world-class Institution.
RNLI Jersey is delighted to report that four crew have successfully completed the pass outs this week, with Chris Mollett and Jonathan Jones successfully completing their assessments for inshore lifeboat Helms, and Gibby Gordon and James Hope being passed out as all-weather lifeboat Coxswains. James Hope notably had a particularly challenging assessment, coming as it did after a 12-hour service on the all-weather lifeboat to assist in the search for a missing French fisherman.
All this is only possible with the incredible support of their amazing families and supporters and not least, the other hugely committed local volunteer crews who go to sea with them!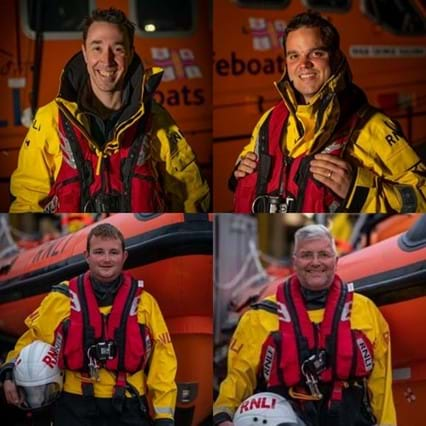 « All News